Posts for: October, 2012
By Cielo Grande Dental Arts
October 26, 2012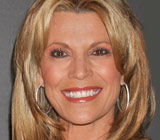 As the co-host of one of America's most beloved television game shows, Wheel of Fortune, Vanna White is recognized for her beautiful gowns and her dazzling smile. However, during an exclusive interview with Dear Doctor magazine, she shared her experiences with cosmetic dentistry. "I had a bridge put in probably 30 years ago where I had a tooth pulled and there was a space," Vanna said.
Prior to having a permanent tooth pulled, most people are concerned with what can be done to replace it. It's important to follow through and do exactly that. This is especially true with back teeth. Just because you can't see them, it doesn't mean you won't face problems if they are not replaced.
For example, did you know that missing posterior (back) teeth can lead to a wide array or problems with the remaining teeth, muscles, ligaments, joints and jaw bones? This includes:
A decrease in chewing efficiency that in turn can impact your diet, nutrition and overall health
Excessive erosion or wear of remaining teeth
Tipping, migration, rotation and even loss of adjacent remaining teeth
Painful jaw problems such as Temporomandibular Dysfunction (TMD)
One treatment option is to follow in Vanna's footsteps and consider a fixed bridge. This is an excellent option when dental implants won't work. And through our artistry, we can easily blend them in color and appearance with your surrounding teeth.
When implants are possible, they represent the best option. They are easily maintained and are a durable, long-lasting solution that can increase bite support.
To learn more about this topic, continue reading the Dear Doctor magazine article "Replacing Back Teeth." Or if you are already missing a permanent tooth, you can contact us today to schedule an appointment so that we can conduct a thorough examination. We will also address any questions you have as well as your treatment options. And if you want to read the entire feature article on Vanna White, continue reading "Vanna White."
By Cielo Grande Dental Arts
October 11, 2012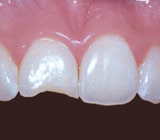 Damaging the crown of a tooth (the part of the tooth that is visible above the gums) is the most common type of dental injury. The tooth may be broken or chipped. It is good to be prepared by knowing how such cases should be treated.
What is the first thing to do if my tooth is chipped or broken?
If fragments broke off the tooth, try to find and save them. They can probably be reattached to the tooth by bonding.
Does a chipped or broken tooth hurt?
The tooth may be sensitive to touch, hot and cold. Depending on the type of injury and how much of the tooth's inner surface is exposed, there may also be pain.
How long can I wait before getting treatment?
Get treatment right away, within 12 hours if possible. Teeth with crown fractures can be treated within 12 hours without affecting long-term outcomes.
What types of treatment may be used?
The treatment recommended depends on the tooth and the type and severity of the injury. Exposure of a tooth's inner pulp can be treated by a pulpotomy (partial pulp removal) technique. Front teeth can be temporarily restored with special cements, or the original tooth fragments may be reattached by bonding. Composite resin bonding may be used to restore the tooth's original appearance and function. Composites can be made in a wide range of tooth colors and can match the original tooth almost exactly.
Is treatment different if the damaged tooth is a primary (baby) tooth?
Chipped or broken primary teeth are generally treated similarly to permanent teeth. The treatment depends on the extent of the injury and damage to the tooth. Treatment of fractured primary teeth also depends on the proximity of the injured tooth to the permanent tooth beneath it, which will ultimately replace it. If a fractured primary tooth cannot be saved, it may be removed.
What if my tooth is loosened but not broken?
If the tooth is loosened but not cracked, broken or chipped, no dental treatment may be required. However, we will collect baseline clinical and x-ray information and keep an eye on the tooth or teeth in the future. We will need to check the tooth during recall visits to see whether the dental pulp is still living or whether it has died as a result of its injury. The latter condition can lead to a variety of problems and will require treatment.
Contact us today to schedule an appointment to discuss your questions about repairing a chipped tooth. You can also learn more by reading the Dear Doctor magazine article "The Field-Side Guide to Dental Injuries."