Posts for tag: clear orthodontic aligners
By Cielo Grande Dental Arts
May 15, 2013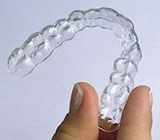 Years ago, if you hadn't received braces by the time you finished high school odds are you would never pursue orthodontic treatment. Most adults wouldn't have even dreamed of wearing braces! Thankfully, today, clear aligners have quickly become a popular alternative for adults who have mild to moderate crowding or spacing of teeth.
Unlike traditional orthodontic "braces" in which small (metal) brackets are attached to the teeth, clear aligners use a sequence of individual, clear, removable "trays" to straighten teeth. These trays completely cover each tooth and gradually move the teeth into new improved positions. Clear aligners can be used to realign mildly crowded or tipped teeth, to close small spaces between teeth and even treat elongated teeth.
Your clear aligners will be computer-generated based on current dental records. If you would like to find out if you are a candidate for orthodontic treatment using clear aligners, we will need a full set of records to properly assess your case starting with a thorough examination, taking radiographs (x-rays) of your teeth, jaws and skull, as well as photos and impressions of your teeth that can be used to create models. If you have a good bite, which means that your back teeth fit together properly, clear aligners should be a viable treatment option for you. However, if your upper and lower jaws don't align properly, resulting in a severe overbite or underbite, you will more likely need traditional orthodontic braces to straighten your teeth and improve your bite.
Each patient presents unique dental challenges. Cases vary, but you can expect to have to wear the aligners all day except when eating, for an average of anywhere from six months to two years. But don't worry about what others might think — clear aligners are barely noticeable at all.
If you are ready to improve your smile with this state-of-the-art orthodontic treatment, call our office today. To read more about clear orthodontic aligners, and to view photos that compare traditional orthodontics to clear alternatives, please read the article "Clear Orthodontic Aligners: An Alternative For Adult Orthodontics" in Dear Doctor magazine.
By Cielo Grande Dental Arts
March 07, 2013
For adults with a reasonably well fitting bite, but mild to moderate crowding or spaces between your teeth, clear orthodontic aligners can be an ideal solution for straightening your teeth. This is why we offer this treatment option to our patients experiencing these issues. However, for those of you who are unfamiliar with what they are or how they work, this will give you a brief understanding.
Clear orthodontic aligners consist of a series of clear "trays" that fit snuggly over all teeth to slowly shift them into alignment. Patients are typically required to wear them 20 hours per day for about 2 weeks before progressing to the next tray. With each new tray, you are one step closer to achieving your goal of perfectly aligned teeth. The entire process usually lasts 6-18 months depending on how much movement is required to achieve the goals.
Each aligner is individually made from very precise molds of the patient's teeth to ensure proper fit. And we map out the entire alignment process using computer generation from each patient's initial molds so that we can identify the number of trays required. But best of all, clear orthodontic aligners are perfectly smooth with no rough edges like traditional braces, and you can remove them for eating, brushing, and flossing teeth as well as for brief social events.
To learn more about this topic, read the article "Clear Orthodontic Aligners." Or you can contact us today to discuss your questions or to schedule an appointment.